THE GOAL
The goal of our business consulting services is to enable leaders or teams to make specific, tough choices to win in the marketplace.
---
THE MISSION
The mission is to free your mind to focus on what matters most by overcoming the natural human reluctance to make truly hard choices.
---
THE PURPOSE
The purpose is to empower your company to create a sustainable, competitive advantage over your rivals by deliberately choosing a different set of activities to deliver unique value.
---
OUR ROLE
We see our role as challengers – we'll challenge you and your team on clear & hard thinking; on real creativity; on personal courage and your follow-through mindset.
---
THE BENEFITS
BUSINESS BENEFITS
Our structured approach can help your company realizing its full potential by providing the following business benefits:
BIGGER MARKET SHARE

defending or gaining back market leadership through well defined "winning aspirations".

HIGHER PROFIT

through a more efficient use of your resources

TIME SAVING

more effective meetings & workflows through clear Where-To-Play and How-To-Win choices.

HIGHER EMPLOYEE SATISFACTION

through a better focus on core capabilities & activities

ENHANCED EXPERTISE

through insights based business management
---
HOW WE DO IT
Usually we follow a 9-step approach:
INDUSTRY ANALYSIS

We start the business consulting process with an industry analysis on the most relevant and strategically distinct market-segments. Then we assess how structurally attractive each of the segments is at the moment and in the future.

CUSTOMER VALUE

On the basis of the industry analysis, we then identify what attributes constitute consumer value and customer value.

RELATIVE POSITION

This step focuses on your company's current capabilities and SWOTs against your core competitors. It also answers the question about your current Price/Value/Cost ratio versus competition.

COMPETITOR ANALYSIS

Playing the devil's advocate, we carry out a "competitive response modelling"-session with the objective of anticipating potential competitive reactions to your company's actions.

WINNING ASPIRATIONS

In this step, we answer the question about what winning looks like for your company. We create statements about the ideal future.

WHERE TO PLAY

This section defines, in which market segments, categories, geographies, channels and vertical service offerings your company shall act in the future.

HOW TO WIN

Objective here is to define how you will win with those who matter most against the very best. How to identify each business party's needs; how to innovate faster and more successful; how to further build your brands; and how to reduce cost.

CORE CAPABILITIES

The outcome of this part will be a set of activities and required competencies that underpin the Where-To-Play & How-To-Win choices. Key focus will be on knowledge about customers and markets; brand building activities; people skills (functional & soft); and scale.

MANAGEMENT SYSTEMS

The goal in this section is to come out with: "We manage what matters". Which tools do currently exist and how user-friendly are they; does the current organizational setup reflect the defined strategies; what are the current communication and decision taking processes; how are tasks currently prioritized and split between functions.
---
WHY IT WORKS
This comprehensive, straight forward and logical business consulting approach works, as it "forces your hand" and requires tough and clear decisions. This will allow your company to escape from the organizational bias of short-term, urgent, doing, cash-driven action-setting towards a long-term headed, value driven, thoughtful business approach, working on the most important matters.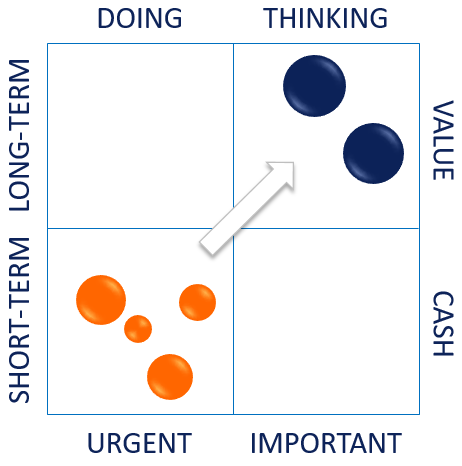 ---
WHY IT SOMETIMES DOESN'T WORK
CHEMISTRY
Although dominated by numbers, business consulting is a very personal process. As with everything personal, there must be a fit in chemistry and the matching of client and consultant.
LET'S WAIT & SEE
During the business consulting process executives sometimes step out of the project saying: "the consultants will come up with a proposal". The whole process is an ongoing mutual interaction between the business experts and the consultants.
MISINTERPRETATION
Leaders sometimes think, the "optimization of the status quo" equals "strategy". Optimization can increase efficiency, but it isn't strategy.
Leaders talk about "best practice" and are convinced that the same set of activities done more effectively is strategy. It isn't. It's mediocrity.
LACK OF DATA
Projects fail or stall due to a lack of insights through no or not enough data. In times where data are the most precious currency, companies need to invest heavily in data acquisition and data management systems.